Chinese proverbs about laboring towards success
When striving towards a better job, or bringing up a family you may need a proverb to keep yourself determined for the long haul towards success.
aspiration not can slow, time not can lose
Do not let your aspirations weaken; do not waste time
Keep hold of your hopes and dreams, waste no time in achieving them
Don't change horses midstream
do live no reason master pile up die also no merit
Working without obeying the boss will bring only hard work and no merit
Only work on what is needed to be done
grant child thousand cash not like teach child one skill
Better to teach a child a skill than give money
Learning a new skill will pay dividends in the future
thick branch big leaf
A large branch with large leaves. Unable to draw in fine detail
Lack of attention to detail
touch stone accomplish gold
Turn stone into gold
To turn something of little worth into something of value
you die I live
Fight to the death
To fight to the bitter end
person heart separate belly
A person's heart is not discernible from looking just at the body
People are inscrutable. Do not judge by appearance
Do not judge a book by its cover
Cheng door stand snow
Standing at Cheng?s door in the snow
Showing great respect for someone - usually a teacher or scholar. The story is that a great scholar accidentally left two students waiting for him for hours out in the snow.
fly moth hurl fire
A moth throws itself into a flame
Heading for self destruction
Like a moth to a flame
speak arrive make arrive
Say and then make
Do what one says
Actions speak louder than words
grind pestle accomplish needle
Grinding an iron pestle down to a needle
Patiently setting about a great, lengthy task step by step. Anything can be achieved with a firm resolve,
Little strokes fell great oaks
常
将
有
日
思
无
日
,
莫
将
无
时
想
有
时
[常將有日思無日莫將無旹想有旹]
normal support has day think nothing day, noone support nothing time think has time
When rich there is time to think all day, when poor there is no time to think
When rich, you have time to dream, but do not dream of riches when you are poor
not arrive Yellow River not die heart
Not giving up until one reaches the Yellow River
Keep going until you hit an insurmountable obstacle
He who hesitates is lost
Shu to attack surname Mo to defend
Shu attacks and Mo defends
Two opponents of equal skill. Back in the Spring and Autumn period the story goes that Gongshu Ban, a carpenter who had developed a new device to aid the attack of cities, was persuaded by the pacifist philosopher MoZi not to deploy it. Mozi was able to defend against any attack by Gongshu Ban giving stalemate.
Fighting to a standstill
water drip stone penetrate
Dripping water eventually wears away stone
If you persevere, you will eventually achieve your goal
Mighty oaks from little acorns grow
one stride reach heaven
Approach heaven with a single stride
An attempt to achieve a goal all in one go without hard work
Rome was not built in a day
see justice brave act
See the just cause and act on it
To see what is right and act with courage
ant gnaw bone
Like ants gnawing at a bone
Dogged perseverance to achieve a long term end
person heart no attain snake swallow elephant
A person's greed is like a snake that seeks to swallow an elephant
Greed is insatiable

Mirror lake in
Qinghai
one attend honor
Honored from a single glance
Honored by a visit of someone distinguished who is showing an interest. A passport to getting on in social circles. The story is that a expert of horse was persuaded to give a mere glance at a horse that was for sale and by so doing its price rose enormously in value.
abandon sleep forget eat
To forget to sleep and eat
To be absorbed in work and study
one stride one footprint
Every step leaves a footprint
Work steadily one step at a time in order to make solid progress
Rome was not built in a day
iron pestle produce needle
Grind an iron rod down to a needle
Perseverance can achieve anything
grief weapons certainly victory
A vengeful army will certainly win
Strong emotion galvanizes effort
world foreign peach source
The land of peach blossoms
A mythical land of peace and harmony. The story is of a hidden land that a fisherman found while trying to escape turmoil and war in the Qin dynasty. Try as he might he never found the land again.
Land of milk and honey
day take continue
Day and night continuously
Working without a break. Exhausted
phoenix hair unicorn horn
As rare as phoenix feathers and unicorn horns
Seeking the unobtainable
not enter tiger den how get tiger cub
Without entering a tiger's den how can you hope to capture a tiger cub?
Great rewards require a great risk.
Fortune favors the brave. Nothing ventured, nothing gained
stupid bird first fly early enter forest
A clumsy bird that flies first will get to the forest earlier
Starting early helps achieve success
The tortoise beats the hare. The early bird catches the worm
completion lost one basket of earth
A new dam is left incomplete due to the lack of one basket of earth
See things through to the end
have money can send devil push grindstone
If you have money you can make the devil push a grind stone
Money can buy you anything
endure disgrace bear repetition
Enduring humiliations in line of duty
Willing to put up with disgrace and humiliation so that work can be done. Often applied to someone given a very difficult but important task.
Taking the flak
50 pace smile 100 pace
Fifty steps laugh at a hundred steps
Being complacent about the future. Believing a job is all but done when only half done.
Pride cometh before a fall
not fear slow come-near fear halt
Not fear slowing down; fear coming to a halt
Do not be afraid of slowing down as long as you keep going
A rolling stone gathers no moss
thousand mountain ten thousand rivers
Many mountains and many rivers
A long and arduous journey
work multiple times merit half
Work very hard for half the result
Work with care rather than speed
Less haste more speed
one part cultivation, one part harvest
Half growing the crop; half harvesting it.
Hard work is needed to achieve a good result. Can't expect a harvest without cultivating the crop.
Hard work never did anyone any harm
half way but give-up
Give up half way through
To abandon work half done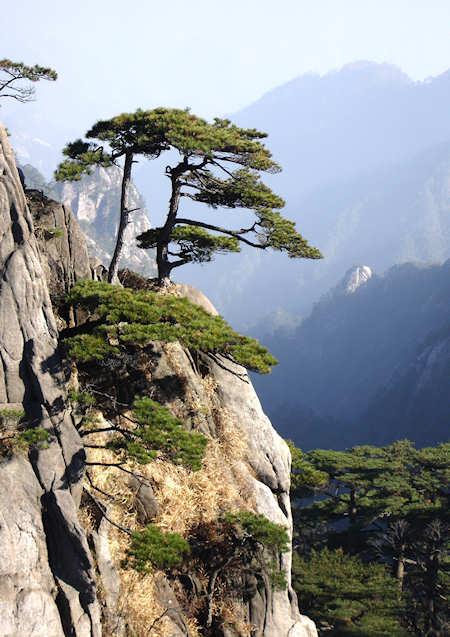 Huangshan mountain with Pinus hwangshanensis trees, Nov 2010
Image by
Peter05031960

➚
available under a
Creative Commons license

➚
tie clever tie resemble
Weave skillfully life like images
Produce an image remarkably true to life; highly skilled
mirror flower water moon
Flowers in a mirror and the moon in water
Beautiful but unattainable dreams. Unrealistic ambitions
foolish man move mountain
The foolish old man who moved mountains
Anything can be achieved with persistence. ?. The
old story

➚
is that an old man wanted to move a mountain that blocked his path. Despite widespread cynicism he and his descendents gradually wore down the mountain
mountain no turn road turn
A mountain cannot turn, but a road can
It is not necessary to continue in the same direction, there are other alternatives to avoid an obstacle
There's more than one way to skin a cat
hundred bend not scratch
Not to falter despite many setbacks
Persistence pays off in the end
Patience is a virtue
mature can produce skill
Learning a skill from long experience
With long practice one can learn any skill
Practice makes perfect
health strength walk
To maintain health by strenuous walk
Following the advice given oneself
Practice what you preach
broken pot sink boat
Smash the pots and sink the boats
A
story

➚
at the fall of the Qin dynasty 207BCE tells of the general Xiang Yu who refused to accept possibility of retreat at the battle of Julu by burning the boats and smashing the cooking pots. So it means no going back whatever happens. Cutting off all possibility of retreat
Do or die
leave village behind well
Leave one's own village
A stranger away from home
small hole no mend big hole eat bitter
A small hole not mended in time will soon become a larger hole more difficult to mend
Do not put off taking action to put things right
A stitch in time saves nine
rabbit dog cook
Trusted helpers are dispensable after their mission is complete
Watch your back. Once the job is done you may be sacked
single spear horse
A single spear and a single horse
Taking on a difficult task on your own
thousand mile's walk begin goto foot down
A long march starts from a single step
Perseverance will lead to eventual success
Mighty oaks from little acorns grow
person towards high place walk, water towards low place flow
A person moves up while water always trickles down
There is always room for improvement
Practice makes perfect
contrary overturn push and knock
Carefully considering the words push and knock
Spending considerable time to get the words just right. Showing excessive concern on minor details. Said to be the story of an Tang dynasty official who could not choose whether 'knock' or 'push' was the appropriate word in a poem.
Slow but sure
not fear road long only fear aspire short
Not fear a long road; fear aspiration to start
Do not be afraid of a long road to success only be afraid of a shortage of ambition
Rome was not built in a day
have what not can
Anything not possible
Anything may be possible
sweep dust again come
Sweeping off the dust and trying again
Making a comeback after a setback - determined to have another go. Like getting back on a horse after being thrown off.
Dust yourself off and start all over again
after raise him refined
Promising young talent
Said of someone showing talent at an early age.
He/she will go far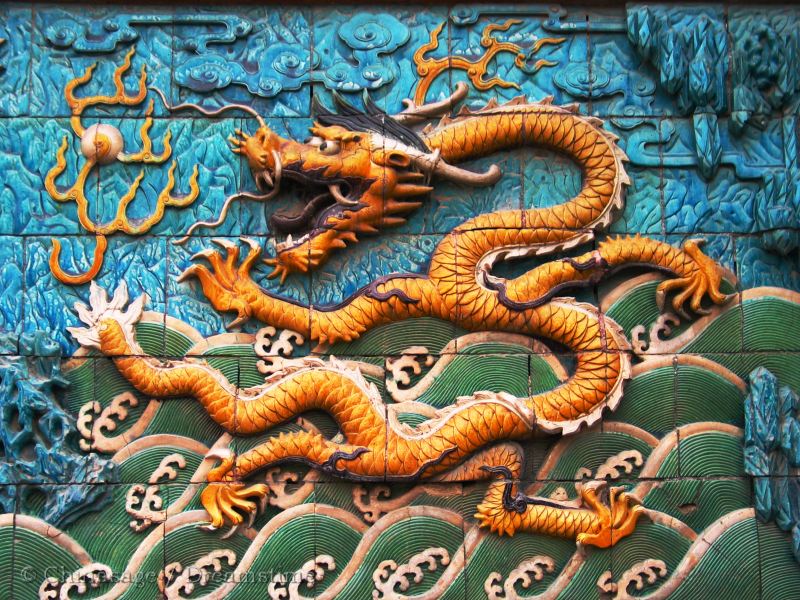 One of the nine
dragons
on the Nine Dragon Screen,
Forbidden City
, Beijing
disobey border go out person ability
Rebellion creates capability
Hardship and adversity fosters talent
If life deals you lemons, make lemonade
gather armpit accomplish fur coat
A fur coat can be made from poor scraps
Make do with what you have
Beggars can't be choosers
jade not polished not accomplish gem
Jade requires fashioning to turn into a gem
Training and discipline are needed to build character
also step also walk fast
To follow in someone's footsteps
To imitate slavishly. The story is of a devoted pupil of Confucius, Yan Hui, who aped everything Confucius did including his walk. Pointless copying
A copycat
chat what look easy
Talking makes look easy
Not as easy as it seemed
Easier said than done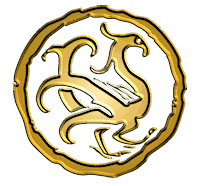 Our proverbs come with full information. The modern Chinese
characters
are given first with links that give information on the character. If the phrase uses
traditional characters
these are shown in brackets and gray text. As proverbs are so old you will often see them written in the old form. The characters are followed by the proverb (Chengyu) in
pinyin
. Next, there is a crude character by character transliteration into English, followed by a more accurate English translation. If this is a Chinese proverb alluding to history the meaning may still not be clear in English, so the general meaning follows. Finally some proverbs have fairly direct English equivalents, if so the English proverb is included at the end.
Our translations are in need of improvement, so please let us know your ideas. For background on the types and history of proverbs please
see our guide
.
Copyright © Chinasage 2012 to 2019
Please wait...
Downloading information about character