Numbers in Chinese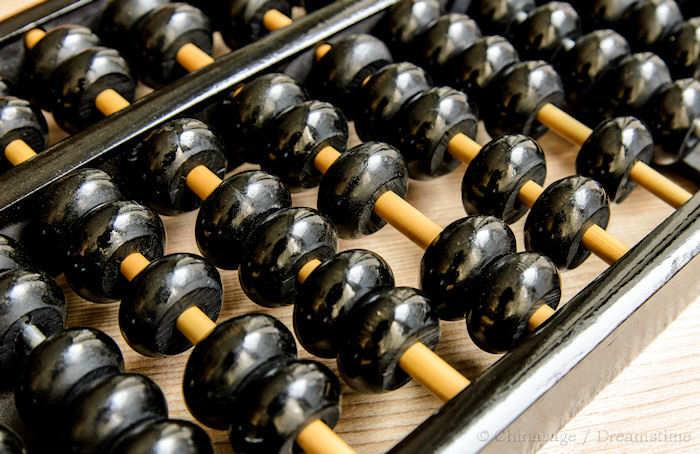 The Chinese numbers are straightforward. From earliest times the decimal system has been used in China for counting and once you have mastered the numbers you can tell the date and time too. Nowadays the Arabic numbers (0 to 9) are often used when writing numbers but they have Chinese names. In this section we also give the symbolic associations for each number.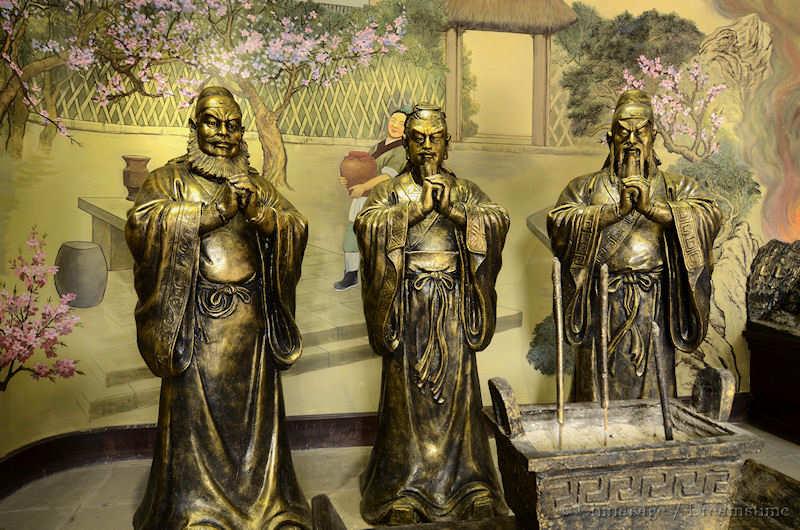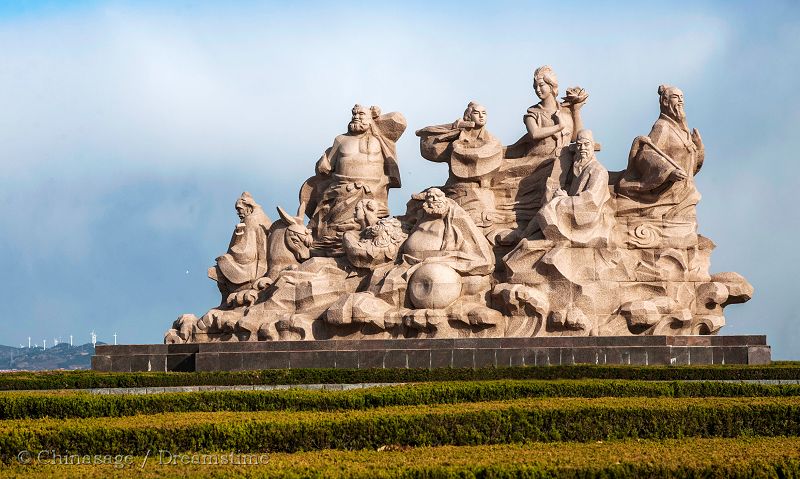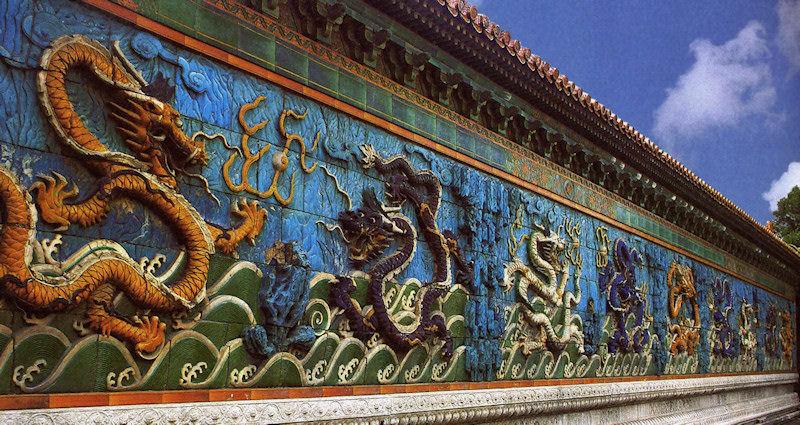 Ten to a hundred
The Chinese numbers between 10 and 100 are regular, unlike English and French (e.g. eighteen and soixante), there are no special new characters to learn. 'Tens' are followed by shí then the 'units'. So forty five (45) is simply 四十五 sì shí wǔ and eighty-two (82) is 八十二 bā shí èr. If the number is a multiple of ten then no units are needed: so seventy (70) is 七十 qī shí
12
As elsewhere in the world a dozen is a popular number. It can be divided into 2;3;4 and 6 parts. There are 12 months in a normal year. From the Twelve Earthly Branches there are 12 years in the sequence of astrological sequence of animals. There are 12 symbols in the Imperial insignia.
13
The number 13 is considered unlucky in China, as in many other countries, this probably has its origin in the fact that the solar year divides into 12 and a bit lunar months. So this thirteenth 'part' month is a strange and inconvenient thing. The Chinese calendar inserts a whole extra thirteenth month every few years so a regular year has 12 months, the 'unlucky' intercalary month was called 'Lord of Troubles'..
36
Thirty six was a significant number in China. The Qin Emperor's lucky, dynastic number was six and everything had to relate to six. Six times six (36) became an important number. His domain was reputed to laid out into 36 regions and there were 36 barbarian peoples beyond it.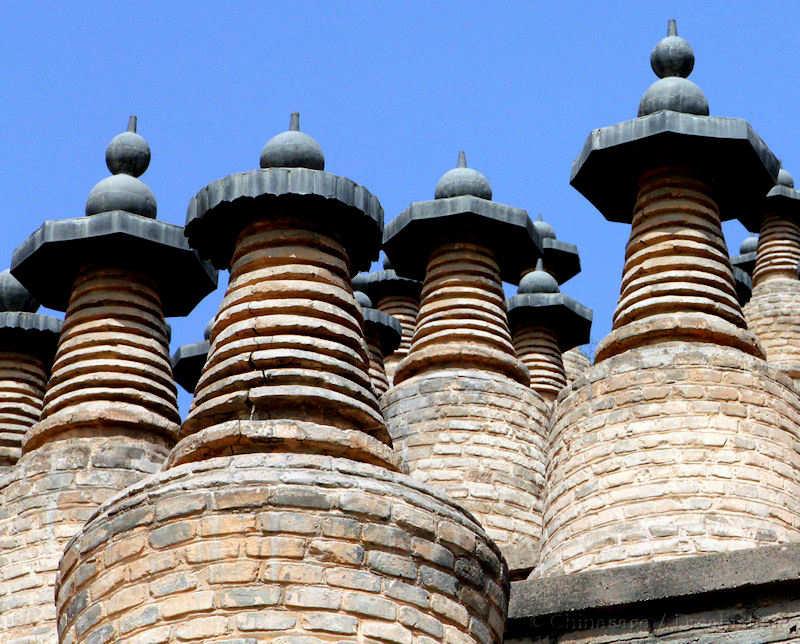 108

百

零

八
bǎi líng bā
For Buddhists in particular the number 108 has a great significance:
Tài jí quán (Tai chi) has a complete set of 108 steps.
The bells and drums at city centers were struck 108 times to indicate the start and end of the working day.
The Manchu-Han Imperial Feast of the Qing dynasty had 108 dishes.
To the south of Yinchuan in Ningxia there is an historic site with 108 dagobas.
There are 108 beads on the Buddhist rosary worn around monks necks. Bodhisattva Mahamati asked Buddha 108 questions.
The Tang dynasty capital of Chang'an was divided into 108 wards.
There are traditionally 108 masters of Dao in Daoism.
There are 108 'Stars of destiny' (outlaws) in the classic book 'The Water Margin' by Shi Nai'an.
108 is chosen because it is a mathematically interesting number. It is the product of 1, 4 and 27 making it special as 11.22.33 defines it as the hyperfactorial

➚

of 3. In Chinese numerology the fundamental number of 108 is 9 as 1+0+8=9. Nine is the Imperial yang number. 108 is divisible by 2 , 3, 4, 6, 9, 12 and others making it a very useful number for counting such things as mantras. It can also be expressed as sums of other significant numbers. 27 + 81 = 108 so it is considered a very yang number 27=3 x 3 x 3 and 81=3 x 3 x 3 x 3. In addition 36 + 72 = 108 so sixes (6 x 6) and (6 x 6 x 2) are also expressed. In the Chinese calendar there are 12 months and 24 solar mansions =36, there were 72 five day divisions of the ancient year (360 days).
Thousands in Chinese
Large Numbers
The Chinese numbers above 10,000 use a different form, there is no special character for 100,000 and one million 1,000,000. Instead 100,000 is expressed as 10 x 10,000 十万 shí wàn and one million 1,000,000 as 100 x 10,000 一百万 yī bǎi wàn.
Following this logic 10,000,000 is 1,000 x 10,000 一千万 yī qiān wàn.
When 100,000,000 is reached a new character is available to represent 10,000 x 10,000 亿 yì. This yi (4th tone) only differs in tone from yī (1st tone) for one, This demonstrates rather forcibly how important tones are in Chinese, there is quite a bit of a difference between 1 and 100,000,000!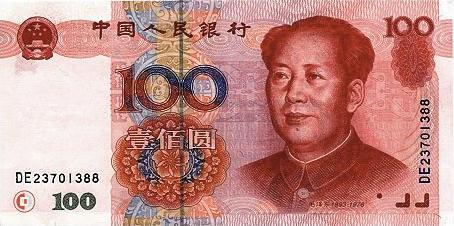 Chinese Bank notes
To counter the possibility of fraud by just adding an extra stroke or two to increase the written value, the numbers printed on bank notes and checks are given a different, more complex form. The Chinese introduced paper notes as long ago as the Tang dynasty (1,300 years ago). The more complex form for numbers is called 大写 dà xiě.
1:

壹

2:

贰

3:

叁

4:

肆

5:

伍

6:

陆

7:

柒

8:

捌

9:

玖
The decimal units also need different forms on notes to counter fraud. In some cases the simple form is a constituent of the more complex one.
0:

零

10:

拾

100:

佰

1000:

仟

10,000:

萬

10,000,000:

億
Summary
Now you have mastered numbers you can quickly read and tell the date and time. See Date & Time for all the details.
Sound files kindly provided by shtooka.net ➚ under a Creative Commons Attribution Share Alike License
See also