Chinese proverbs 谚

语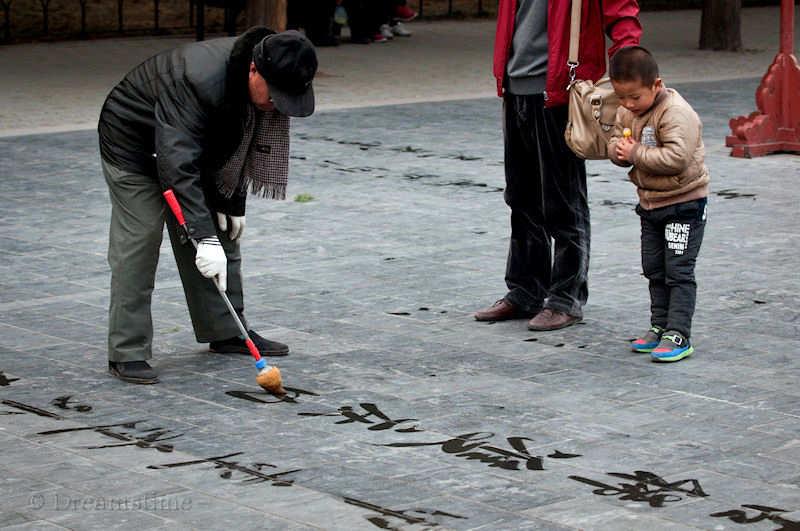 Old man practicing calligraphy at the
Temple of Heaven
park, Beijing Copyright © Dreamstime see
image license
The nature of the Chinese language lends itself to proverbs and idioms. Just a few characters in Chinese can quickly convey a complex thought. Proverbs and sayings are a tasking study as their origins are difficult to trace; some go back thousands of years and are mentioned in the Yi Jing and Dao De Jing ancient classics.
Many proverbs relate to specific people or places in Chinese history, we have chosen to exclude these as they are hard for non-Chinese people to understand without considerable historical context; instead we have chosen proverbs and sayings that give an insight into Chinese culture and traditions.
---
Translating Chinese proverbs into English is not an easy task. Sometimes there is no similar construct or meaning in English and so a translation can seem contrived. If you can help improve our efforts please let us know.
Chinese proverbs are broadly categorized as either 谚语 yàn yǔ (proverbs or 'familiar saying') or 成语 chéng yǔ (meaning 'become language' usually translated as 'idiom' or 'accepted saying'). The short standard form of Chengyu is made up of four characters and there are thousands of them, one for every possible situation. They are written in Classical Chinese where often one character takes the place of two or more in Modern Chinese. There are also the 俗语 Súyǔ which are popular sayings and the 歇后语 Xiē hòu yǔ which are two part allegorical sayings that are pretty hard to translate. In the first part of a xiehouyu the situation is described and the second gives the underlying truth, so in English there is the similar 'a bird in the hand, is worth two in the bush' construction. Often only the first part needs to be said as the second part is implied. Puns are also used in xiehouyu adding to the difficulty in understanding and translating them.
---
Here are a few random idioms to give a flavor of the hundreds on this site. The proverbs are divided into different categories with a common theme. The same proverb may appear under several categories. Use this bar to see a group of related proverbs.
Alternatively, you can look a proverb by in Chinese by looking through the index by pinyin. As there are so many these are split into separate pages: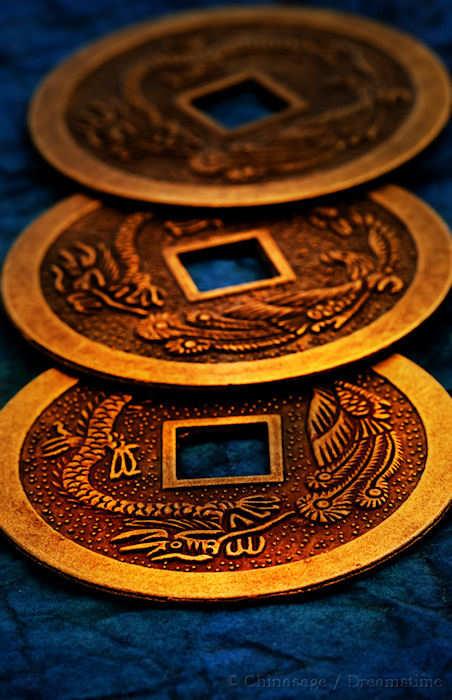 Three gold coins used for
Yi Jing
fortune telling
multitude rebel related leave
Deserted by followers
Finding yourself isolated having lost support.
because choke abandon eat
If is foolish to refuse to eat just because of the chance of choking
Life does not come without risks. Risk of failure is not an argument for not trying
一
个
和
尚
挑
水
喝
,
两
个
和
尚
抬
水
喝
,
三
个
和
尚
没
水
喝
[一個和尚挑水喝兩個和尚抬水喝三個和尚沒水喝]
one yet lift water, two yet carry water, three yet not carry water
One monk shoulders water by himself; two can still share the labor between them. When it comes to three, they all go thirsty.
Sometimes work is best done alone, a group may procrastinate without achieving anything
Too many cooks spoil the broth
withdraw to escape three 'she'
Withdrawing three leagues
To retreat ahead of superior force, a tactical withdrawal. A 'she' is an ancient term for three day's march or 30 li. To sensibly avoid conflict.
study study not neglect
Do not neglect your studies. Ponder on problems
Study hard. Keep thinking about a problem
Where there's a will there's a way
behind arrive reside above
A later-comer surpasses everyone
A new arrival outperforms everyone present. A youngster outstrips the older generation
Put everyone in the shade
not cold but trembling
Shivering yet not cold
Shudder with fear and dread. There is a story of a sadistic official of the Han dynasty who arbitrarily sentenced to death. When their relatives and friends came to protest he had them executed too. Everyone was quaking with fear when they saw the official.
Shake like a leaf
use Zheng as gully
Building a drain onto neighbor?s land
Diverting flood water onto neighbor's land - moving a problem onto others rather than try to solve it. Acting selfishly.
Look out for number one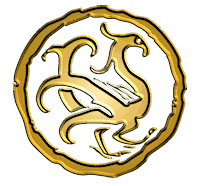 Our proverbs come with full information. The modern Chinese
characters
are given first with links that give information on the character. If the phrase uses
traditional characters
these are shown in brackets and gray text. As proverbs are so old you will often see them written in the old form. The characters are followed by the proverb (Chengyu) in
pinyin
. Next, there is a crude character by character transliteration into English, followed by a more accurate English translation. If this is a Chinese proverb alluding to history the meaning may still not be clear in English, so the general meaning follows. Finally some proverbs have fairly direct English equivalents, if so the English proverb is included at the end.
Our translations are in need of improvement, so please let us know your ideas. For background on the types and history of proverbs please
see our guide
.
Copyright © Chinasage 2012 to 2020
Please wait...
Downloading information about character