Cao Cao
曹操
[155 - 15 Mar 220]
or Ts'ao Ts'ao WG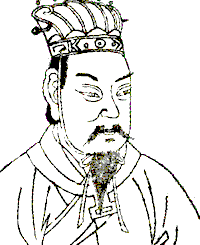 A portrait of w:Cao Cao from w:
Sancai Tuhui

➚
.
By Wang Qi (1529 - 1612) available under a
Creative Commons license

➚
.
The actions of Cao Cao brought about the end of the Han dynasty. He was the adopted son (or maybe grandson) of a senior eunuch at court and took military control of northern China. Cao was initially considered loyal and incorruptible being given the illustrious grade of Xiaolian ➚ 孝廉. He built a loyal strong army from remnants of the Yellow Turban rebels that he defeated.
At the Battle of Guandu ➚ (200CE) his army defeated another warlord, Yuan Shao, and then he reinforced his grip on northern China seeking to restore power to the beleaguered Han dynasty. Cao's daughter was married to the last Han Emperor Xiandi, greatly enhancing his influence. His defeat at the Battle of Red Cliffs (赤壁之战 chì bì zhī zhàn) ended these ambitions. On Cao Cao's death his son Cao Pi proclaimed himself founder of a new 'Wei dynasty' of northern China.
This period is made famous by the book 'The Romance of the Three Kingdoms ➚' and because of that is one of the most widely known periods of Chinese history. In the book Cao Cao is unfairly portrayed as an evil tyrant and villain. He was perceived to have acted without the Mandate of Heaven to achieve his selfish ways. He is often featured as the villain in traditional operas with white make-up to emphasize his treachery. His actions were considered devious and Machiavellian ➚. A famous story says something more nuanced of his character. When approaching a field of ripe wheat he forbade anyone under threat of death from damaging or harvesting the crop. However his own horse took fright and trampled the field. Keen to stick to his word he punished himself by cutting off his own hair.
Proverbial Badness
Speak of Cao Cao and he arrives
'
Cao Cao

➚
of the Three Kingdoms is the embodiment of evil. Someone who you are talking about happens to appear unexpectedly
Speak of the devil and he is sure to appear