Mao Zedong

毛

泽

东
[26 Dec 1893 - 9 Sep 1976]
or Mao Tse-tung WG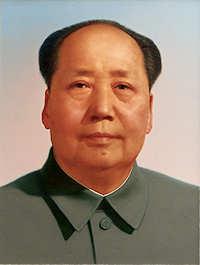 Mao Zedong by
Zhang Zhenshi

➚
Image available under a
Creative Commons license

➚
.
Paramount Leader 1949 - 1976
No overview of Chinese history would be complete without a survey of the life of Mao Zedong. With some still living who were born under his long leadership it is too soon to give an objective assessment of his life. Millions suffered under his policies, and in the last 20 years many stories have emerged of how ordinary people's lives were blighted by the reforms initiated by him (such as in Wild Swans ➚). There remains a clear urban/rural divide in the level of support for Mao, over the years shrines have been built to Mao in the rural areas that most benefited from his reforms. [A golden 120 feet [37 meters] image was erected in Henan ➚ in 2016 but hastily destroyed.]
Mao Zedong grew up in a rural farming family at Shaoshan, Hunan; although not particularly rich the family was not the poorest either. Many Chinese people still visit Shaoshan as a form of pilgrimage. Mao soon moved to the provincial capital Changsha to study. It was there that he received unlikely support from Yale University ➚ Christian Mission who provided funds for him to setup a bookshop specializing in Marxist material. Without this U.S. support it is unlikely his activities would have brought him to the attention of the Communist party leadership. He built on his Marxist-Leninist revolutionary agenda at Beijing University ➚ 1917-1919. He supported the May 4th Movement that captured the mood of national injury following the Versailles Treaty of 1919. He went on to support the May 30th movement ➚ of 1925.
Like many of his fellow leaders he heard the powerful message of Communism from Europe (Deng Xiaoping had studied in France). The Russian revolution ➚ in 1917 proved pivotal, now China had a Communist nation on its border to the north that had a policy of exporting revolution. The message was received with relish not just by the newly formed Communist groups but by Sun Yatsen and other Republicans; Chiang Kaishek went to Moscow to learn modern military tactics. It was only after the First United Front of Guomindang and Communists (1923-27) that mutual suspicion erupted into armed conflict between the two groups in 1927.
Thereafter, throughout the Japanese Occupation both sides viewed each other with distrust. Mao Zedong chose to seek support from the rural peasants. This contrasts with the Russian model of fomenting revolution among urban working classes. He chose this method by analyzing the strengths of the Taiping Rebellion and also as a pragmatic choice - the communists had already been eradicated from the major cities. The support by rural communities proved pivotal. After Mao's famous Long March (1934-35) from Jiangxi to Yan'an in Shaanxi he began to receive support from Russia. He was elected leader of the Chinese Communist Party during the Long March at Zunyi, Guizhou and remained effective leader of the Communists until his death. It was during the late 1930s that Mao developed his own brand of Communism taking in appropriate lessons from Chinese philosophy including Mencius ('When speaking to the mighty; look on them with contempt'); Confucius ('Not feeling ashamed to ask and learn from the people below') and Daoism ('Emperors and Kings do nothing, but the world's work is done... This is the Way by which to have heaven and earth as your chariot, set the myriad things galloping, and employ the human flock'). This break from 'pure' Marxism led ultimately to the break with Russia.
At the end of World War 2 the Communists beat the Nationalists (Guomindang) in the race to liberate Japanese controlled Manchuria. With the popular support of the peasants this victory was repeated throughout China and on 1st October 1949 Mao was able to proclaim that China had stood up with the foundation of the People's Republic of China.
Mao then sought to transform China, turning from bad old ways. He had a deep mistrust of the intellectuals who he saw as wedded to hierarchical deference and procrastination. His analysis of the reasons for China's failure to defend itself against Japan and earlier the European powers in the Opium Wars, led him to propose a radical shake-up of the class system. A true revolutionary, he gained popular support by obliterating the 'landlord' class who for centuries had kept rural workers in their thrall. He initiated immense construction projects to make good the lack of a modern industrial and transport infrastructure. As the over ambitious reforms could not be managed effectively some did more harm than good and millions died as a result.
Initially industrial and technological know-how came from China's Communist ally : Russia. However good relations with Russia collapsed in 1960 ➚ in the Sino-Soviet split. Mao's vision of China and the global Communist revolution was different to that of Khrushchev ➚'s USSR. All technical support was withdrawn and China became an isolated country with very limited contact with foreign nations. After initial Russian technical assistance, China went on to develop its own atomic bomb in 1964.
Acutely aware of the Chinese tendency to stick with the 'old ways' as exemplified by Confucian thought; Mao attacked ruthlessly any sign of backsliding. By re-invigorating revolution among the students, workers and peasants he halted the re-establishment of pre-revolutionary systems. China, no longer concerned with global affairs gradually built modern infrastructure as the necessary first step to future development. He stepped down as leader in 1959, after the setbacks of the Great Leap Forward but in 1966 he launched himself back to power with the Cultural Revolution. His analysis was that China had started sliding back into 'Goulash Communism ➚' where Marxism was being replaced by a 'mixed' economy or private and public enterprises. He saw the party cadres living a comfortable life on the back of the workers and sending their children to top schools risking the formation of a new educated elite. In 1964 he had stated that he saw intellectual study as a cause of 'revisionism' 'We shouldn't read too many books. We should read Marxist books, but not too many of them either. It will be enough to read a dozen or so. If we read too many we may move towards our opposite, become bookworms, dogmatists and revisionists'. Corruption was growing, in 1964 Mao said 'You can buy a branch secretary for a few packets of cigarettes, not to mention marrying a daughter to him'. In March 1966 he set the tone for the period of turmoil that was to follow:
"The propaganda department of the Central Committee is the palace of the King of Hell. We must overthrow the palace of the King of Hell and set the little devils free. I have always advocated that whenever the central organs do bad things, it is necessary to call upon the people to rebel, and to attack the center. Communities must produce many Monkey Kings to create a great disturbance in the palace of the King of Heaven..."
The Cultural Revolution movement grew out of his or anybody's control and led to much suffering by innocent people. His aim was to re-invigorate the revolution by turning the class system on its head again but it went on far longer than a normal 'rectification' campaign. Managers and party officials had already, in his view, become out of touch with the people that they should serve. By punishing the 'bourgeois tendency' and replacing them with ordinary workers he hoped that the system would be re-invigorated with a notion of service. The 'cultural revolution' is a misleading name, there was a popular ironic quote 'The cultural revolution was about doing away with culture', it was more a large scale rectification campaign as the class structure had not been adequately modified. People were admonished to 'fight self and oppose revisionism' revealing it as a campaign to cleanse political thought from back-sliding to old ways of thinking.
Mao became subject to a huge cult following, with everyone wearing Mao Badges ➚ and carrying his Little Red Book ➚, such strong loyalty may owe a little to the traditional total Confucian respect given to the Emperor. He was adulated as the 'Great Teacher, great leader, great commander and great helmsman' and the 'red, red sun in the hearts of the people'. Although he stepped back from day to day running of the government, every word he said was carefully scrutinized and slavishly followed. He arrested and shut up any who did not follow his line, they were 'rightists' and 'capitalist roaders'. Anyone who so much as possessed an LP record of Western music was under threat of arrest and a term in a prison camp (as portrayed in the film China My Sorrow ➚).
The visit of American President Richard Nixon in 1972 ➚ transformed China's international standing. The P.R.C. was at last accepted as the representative for China at the United Nations (the exiled Taiwan regime had previously taken her place). Bilateral trade agreements with Japan were also signed in 1972. China was no longer seen as part of the Communist world dominated by Russia, indeed China was a counterbalance to ambitions of the Soviet Union.
With Mao turning eighty in 1973 the issue of succession became a toxic concern. The appointment of the heir apparent Lin Biao, was made official in 1969; but he was soon charged with an attempted coup ➚ and died in a mysterious plane crash in 1971 apparently fleeing to exile in Russia. Two factions emerged, the moderate reformers led by Zhou Enlai and Deng Xiaoping, and the hard-liners led by Mao's wife Jiang Qing. With the death of Mao's trusted fellow Long Marchers Zhou Enlai and Zhu De in 1976 the succession remained an open question. It was Hua Guofeng who emerged as the unlikely preferred candidate - a compromise between the two factions. Millions mourned Mao's death on 9th September 1976, and many still pass his remains in a crystal coffin at his mausoleum occupying prime position in Tiananmen Square on the meridian that dissects the Forbidden City, reflecting his ambiguity as both 'Man of the People' and their Emperor.
Reviewing his overall legacy is still difficult, many Chinese summarize his achievements as 80% good; 20% bad. He was no saint but no monster either. The period of isolation in the 1960s and 1970s enabled Mao to control and thoroughly reform the country without outside influence. Maintaining the unity of China as a nation is his most important achievement, building a New China in the form of a modern nation state. Feng Jingqing views Mao with a certain widely held nostalgia 'Mao is a symbol of equality and justice. In his time workers and farmers lived with dignity and their rights were guaranteed'. His name must go down with the great reforming leaders of China including Qin Shihuangdi, the brutal first Qin Emperor of China. However, many feel a more accurate parallel is with the rebellious Monkey King who stormed the Heavenly Palace. To quote Mao in 1958:
"Monkey paid no heed to the law or to Heaven. Why don't we all learn from him? His anti-dogmatism dared him to do whatever he liked..."