Chinese idioms about showing due consideration for other people
Working together requires consideration for other people, and this thought features in many Chinese proverbs. Things get along much better if everyone works in harmony.
family shame not allowed outside scatter
Family shame should not be spread
Keep family problems within the family
cause influence favorable guide
Helping things along
To encourage something along to its natural fulfillment.
separate bank observe fire
Watch the fire burn from the other side of the river
Refusing to help others when it is needed
across walk bully road
Walking sidewise to block the way
Being deliberately obstructive
complete jade bi return Zhao
Returning the jade bi to Zhao
A jade bi is a large round piece with a hole in the middle. The story is of an ancient Imperial 'crown jewel' the 'He shi bi' that was stolen by the king of Qin. The ruler of the state of Zhao then managed to get it back. It has come to mean returning something (in good condition) to its rightful owner.
finger mulberry blame locust tree
Pointing to the mulberry tree when the locust tree is to blame
Deliberately deflecting criticism to someone or something else - often to protect friends or family
lick calf's love
The love of a cow licking her calf
An example of parental love and devotion. A biased assessment due to family ties - caring for one's own relatives
The fruit does not fall far from the tree
energetic seize melon not sweet
A melon taken off its vine is not sweet
Coercion never ends up satisfactorily. Leave things to develop naturally
radish cabbage, each have place fond
Some prefer radish while others like cabbage
Everyone has their own preferences
Each to his own
rabbit no eat burrow side grass
Rabbits do not eat the grass around their burrows
Thieves do not steal from neighbors
throw brick draw jade
Cast out a brick to invite jade
Stimulate others to contribute to conversation by making a silly or superficial remark that sparks off debate.
He Dong lion roar
The lioness from Hedong roars
A husband under the control of a domineering wife. The story is of Chen Zao of the Song dynasty who often had guests around in the evening. If his wife got to hear that there were other women with him she would knock on the wall and roar. A hen-pecked man.
She who must be obeyed
person must have face, tree must have skin
Keeping a good reputation is as essential as bark is to a tree
Reputation ('face') must be maintained at all costs
prefecture to be set on fire
The magistrate burns down the town
Bewailing pompous and incompetent officials. The story is that an official refused that his name 'Deng' should be used in any official proclamation. A problem arose when the Lantern or 'Deng' festival was to be announced. Instead of 'Deng' he used the character for Fire instead announcing the coming of Fire throughout the town
Couldn't organize a piss-up in a brewey
strike person not strike 'face'
Better to hit a person than their reputation. Losing 'face' is a major consideration for Chinese people
Be diplomatic and tactful when being critical
To err is human; to forgive divine
lift table level with eyebrow
Lifting the tray up to the eyebrows
Showing respect and affection for someone. It is a traditional show of respect to lift a tray high when presenting food to a respected guest. Lasting love and consideration
catch fish forget trap
After catching a fish forget the trap
Ungrateful behavior, ignoring help given to make things possible
Don't bite the hand that feeds you
sleeve hand side observe
To look on with folded arms
To look on without offering any help or showing concern
thousand Chinese mile deliver swan feather
A swan feather from a thousand miles away
Showing appreciation on receiving a gift that shows the sender has taken time and trouble to choose it. Traveling a very long way to deliver what seems to be a trifle. The tale is from the Tang dynasty, when Mian Bogai sent a gift of a special swan to the Emperor. However the feather was all that was left from a swan when he arrived. So this is a rejoinder when someone receives a gift that is seemingly of low value.
Don't look a gift horse in the mouth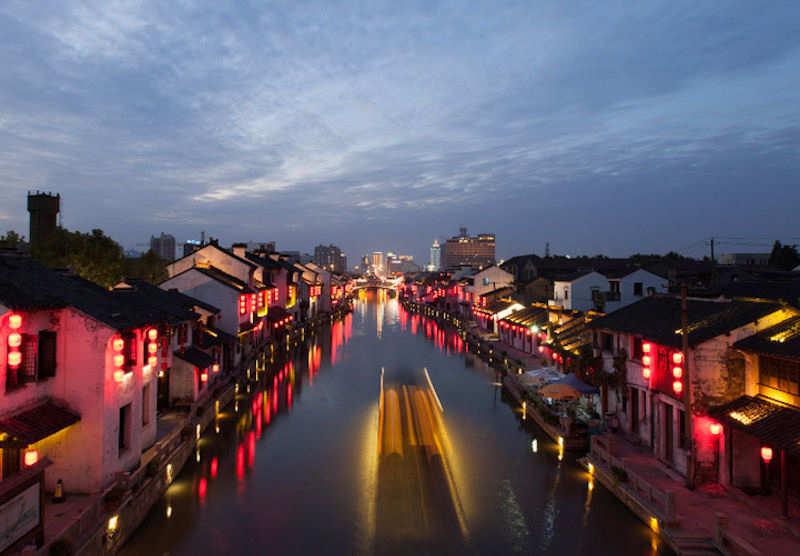 Ancient Beijing-Hangzhou Grand Canal in Wuxi area.
京

杭

古

运

河

无

锡

段

一

景
. Image by
王
波
波
➚
available under a
Creative Commons License

➚
tree fall monkey troupe break up
When the tree falls, the monkeys scatter
When a leader loses power, his followers are disorganized and also lose power. Often said to warn someone that they hold their position only so long as their patron is in power
tie grass link ring
Tying grass and delivering rings
Generously repaying a debt of gratitude. The story is of Yang Bao who nursed a sick bird back to health. After he had released the siskin into the wild he dreamed of the bird carrying grass tied in rings in its beak which transformed into a boy with precious jade rings . The boy gave Yang Bao enduring good fortune in gratitude.
kindness will enemy repay
Repay kindness with hostility
Reject kindness
Biting the hand that feeds it
enter village follow custom
When entering a village, follow its customs
Take account of local people and opinions
When in Rome do as the Romans do
wind rain same boat
In the same boat in a storm
Facing troubles together
A trouble shared is a trouble halved
happy not consider Shu
So happy that the kingdom of Shu is forgotten
Lost in present pleasures so as to forget home and duties. Said of Liu Chan ruler of the Shu kingdom (Sichuan province) who when defeated and in exile heard songs of his old kingdom but did not become melancholy like his other guests. So it refers to someone living in the present and not caring about the past. Lost in the moment
not tell but leave
No words spoken when leave
Leave without saying goodbye
蜡烛
照
亮
别
人
,却毁
灭
了
自
己
[蠟燭照亮別人㕁毀滅了自己]
candle illuminate bright other people, but destroy extinguish itself
A candle illuminates others at the cost of burning itself up
Helping others at the cost of not looking after yourself
Love thy neighbor as thyself
one night ten towards
Ten visits in one night
Showing great care and concern. The story comes from the Han dynasty when an official checked the state of a sick relative ten times during the night.
treaty law three clauses
Setting out the three articles of law
Imposing simple and clear laws. At the end of the bitter Civil War that brought the Qin dynasty to an end in 206BCE, the leader Liu Bang chose to dispose of all the laws of the Qin, replacing them with three simple laws: do not kill; do not harm and do not steal. Liu Bang went on to found the Han dynasty that ruled for 400 years.
house house door door
Every family
The whole community
Song Xiang 's benevolence
Kindness like Song Duke Xianggong
Showing mercy and consideration to opponents. The story is from the Spring and Autumn period when Duke Xianggong of the kingdom of Song confronted an army from the kingdom of Chu. His officers pleaded with the duke to attack while they were still crossing the river, the duke refused considering this an unfair tactic.
go river destroy bridge
Dismantling the bridge after crossing it
Not showing due consideration for others
contrary overturn push and knock
Carefully considering the words push and knock
Spending considerable time to get the words just right. Showing excessive concern on minor details. Said to be the story of an Tang dynasty official who could not choose whether 'knock' or 'push' was the appropriate word in a poem.
Slow but sure
guest arrive as if belong
Guests feel at home
Warmly welcoming guests to your home. Guests treated as part of the family.
Be my guest
rough sparrow although small, five innards all complete
Small as it is, the sparrow has all the vital organs
A person is a person regardless of size. Complete in every detail
injure crowd this horse
The horse that causes trouble to the herd
The bad person of the family or group
Bad apple; Black sheep
city gate destroy fire , calamity reach moat fish
Burning a city gate kills the fish in the moat
A drastic action may unintentionally affect other people. Show consideration for all
drink water think source
When drinking water remember the origin
Do not forget the source of your good fortune (particularly your parents)
Count your blessings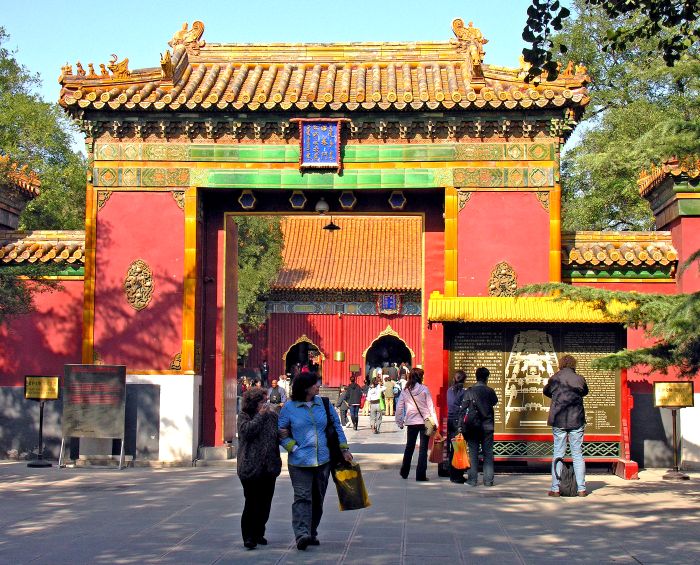 Entrance through the Gate of Peace at the Lama Temple Beijing (Yonghegong), or Palace of Peace and Harmony Lama Temple or Yonghegong Lamsery, a renowned lama temple of the Yellow Hat Sect of Lamaism. Building work on the YongHeGong Temple started in 1694 during the Qing Dynasty. It originally served as an official residence for court eunuchs. It was then converted into the court of Prince Yong Zheng (Yin Zhen), a son of emperor KangXi. After YongZheng's ascension to the throne in 1722, half of the building was converted into a lamasery, a monastery for monks of Tibetan Buddhism, while the other half remained an imperial palace. November 2006. Image by
Dennis Jarvis

➚
from Halifax, Canada available under a
Creative Commons license

➚
holiday pity submit to alter
Hold back on grief and accept the mishap
Often said as a token of condolence on a death
Cheng door stand snow
Standing at Cheng?s door in the snow
Showing great respect for someone - usually a teacher or scholar. The story is that a great scholar accidentally left two students waiting for him for hours out in the snow.
peace reside happy enterprise
Live and work in peace and contentment
Wishing you well in a new home
one look same benevolence
Everybody treat same kindness
Treat all people the same
guard mouth like bottle
To keep mouth shut, like a bottle
To avoid giving the game away; to not breathe a word
See no evil, hear no evil, speak no evil
be born enter death
To risk one's life
Offer unquestioning support
Through thick and thin
look at left and right sides but then talk him
Looking both ways and changing the subject
Avoiding talking about something; taking a long digression
remove clothes cut food
Sharing garments and food
Sharing clothes and food with someone in need. To treat with great kindness and consideration.
old able to increase strength
Old but still vigorous
Remaining vigorous, skillful and healthy in old age.
marry disaster foremost person
A person in misfortune blames someone else
Spread blame onto others
Chaff wife
A wife of chaff-eating days
A loyal wife. Chaff is only eaten when no other food is available and so it means someone who is prepared to share in depredations - sharing the bad times as well as the good.
Through thick and thin
back attend worries
Looking after troubles behind you
Worried about events back at home. Said of someone concerned about goings on at home rather than things immediately to hand.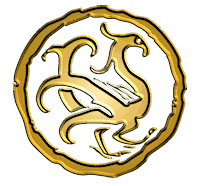 Our proverbs come with full information. The modern Chinese
characters
are given first with links that give information on the character. If the phrase uses
traditional characters
these are shown in brackets and gray text. As proverbs are so old you will often see them written in the old form. The characters are followed by the proverb (Chengyu) in
pinyin
. Next, there is a crude character by character transliteration into English, followed by a more accurate English translation. If this is a Chinese proverb alluding to history the meaning may still not be clear in English, so the general meaning follows. Finally some proverbs have fairly direct English equivalents, if so the English proverb is included at the end.
Our translations are in need of improvement, so please let us know your ideas. For background on the types and history of proverbs please
see our guide
.
Copyright © Chinasage 2012 to 2020
Please wait...
Downloading information about character