虎

hǔ

tiger Made up of [

虍

hū

tiger radical 141]
Made with 8 strokes.


Uses radical for tiger skin combined with representation of two hind legs to represent the animal

Ancient small seal form

Related characters
Different tone
乎

hū

(at)
虍

hū

(tiger)
湖

hú

(lake)
胡

hú

(beard)
戶

hù

(door)
户

hù

(door)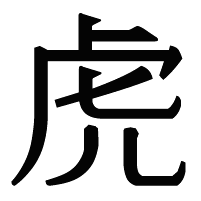 Proverbs
不入虎穴焉得虎子
bù rù hǔ xué yān dé hǔ zǐ
Great rewards require a great risk.
藏龙卧虎
cáng lóng wò hǔ
There are often people around with great power and skill
初生之犊不怕虎
chū shēng zhī dú bù pà hǔ
Innocence about the dangers involved
调虎离山
diào hǔ lí shān
Lure an enemy out of its home territory in order to attack it
虎父无犬子
hǔ fù wú quǎn zǐ
A son is similar to his father
狐假虎威
hǔ jiǎ hǔ wēi
A fox will pretend to have the power of a tiger. The story is that a fox followed a tiger in a parade. The animals panicked and the fox claimed that this was because they were frightened of the fox not the tiger. It goes back to the Warring States Period.
Also
壁虎

bì hǔ

gecko


虎

hǔ

tiger