Books about China : page 8 (books 141 to 160)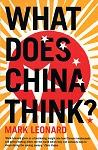 What does China think?, Mark Leonard, Fourth Estate, 2008
134 pages.

ISBN 1586484842
Details/purchase

➚



There are a lot of books trying to place China in the modern World, this does better than most. Mark Leonard bases his insights on personal interviews rather than other books. He manages to demolish many myths and succinctly gets to the crux of the issues facing China. An absorbing read.

When America first met China, Eric Jay Dolin, Liveright, 2013
394 pages.

ISBN 978-0871406897
Details/purchase

➚




A disappointing read as it is not true to its title - there is virtually nothing about meetings of Chinese and American people. It is mainly about the American sea trade in general so there is a lot about such things as fur trading and tea clippers. Somehow the Opium Wars gets a lengthy treatment even this did not really affect the American trade in the drug. It does however cover the often neglected and shameful coolie trade. In general the book is all about the US sea trade where it effected China but you will learn very little about the Chinese point of view.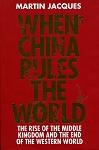 When China rules the World, Martin Jacques, 2009, Allen Lane
549 pages.

ISBN 978-0140276046
Details/purchase

➚



This is a tiresome book. A vitally important subject and a contentious title lead you to think this will be a rewarding experience. The author has a pompous and extremely wordy style that makes reading needlessly hard work. Buried in the random witterings about China's past, present and future are useful facts and perspectives but they are so hard to uncover that frustration rather than enlightenment is the outcome. It reads like a brain dump rather than a carefully prepared argument. Repetitions are numerous. It has 100 pages of notes and bibliography. Because learning about China's new place in the world is so important it must be concluded that with severe misgivings this book deserves to be read.
Key to symbols used in the book descriptions
Note: More up-to-date editions of these books may well exist.

Our overall star rating for the book up to five stars.

Has black and white illustrations, none in color.

Has color illustrations, often has black and white illustrations too.

Does not have Chinese text in it.

Uses the modern
Pinyin
system for romanizing Chinese text.

Uses the old
Wade Giles
system for romanizing Chinese text.

Includes Chinese characters.
Many books cover more than one topic, these icons reflect all topics it may touch on.

Covers Chinese art.

Covers Chinese dynastic
history
up to 1912.

Covers Chinese
modern history
from 1912 into PRC.

Covers Chinese
traditions
.

A work of Chinese literature (translated into English).

An introduction to learning the Chinese
language
.

Covers Chinese
philosophy / religion
.

Useful travel guide to China.
Copyright © Chinasage 2012 to 2019
Please wait...
Downloading information about character