Chinese proverbs 谚

语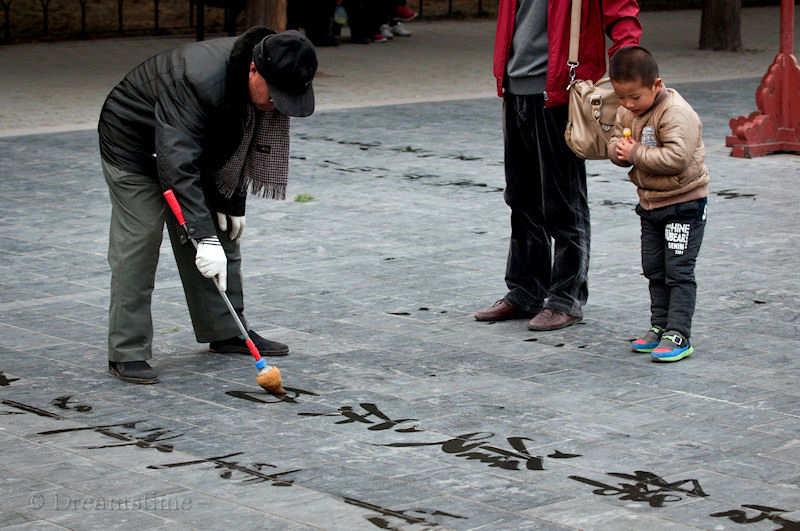 Old man practicing calligraphy at the
Temple of Heaven
park, Beijing Copyright © Dreamstime see
image license
The nature of the Chinese language lends itself to proverbs and idioms. Just a few characters in Chinese can quickly convey a complex thought. Proverbs and sayings are a tasking study as their origins are difficult to trace; some go back thousands of years and are mentioned in the Yi Jing and Dao De Jing ancient classics.
Many proverbs relate to specific people or places in Chinese history, we have chosen to exclude these as they are hard for non-Chinese people to understand without considerable historical context; instead we have chosen proverbs and sayings that give an insight into Chinese culture and traditions.
---
Translating Chinese proverbs into English is not an easy task. Sometimes there is no similar construct or meaning in English and so a translation can seem contrived. If you can help improve our efforts please let us know.
Chinese proverbs are broadly categorized as either 谚语 yàn yǔ (proverbs or 'familiar saying') or 成语 chéng yǔ (meaning 'become language' usually translated as 'idiom' or 'accepted saying'). The short standard form of Chengyu is made up of four characters and there are thousands of them, one for every possible situation. They are written in Classical Chinese where often one character takes the place of two or more in Modern Chinese. There are also the 俗语 Súyǔ which are popular sayings and the 歇后语 Xiē hòu yǔ which are two part allegorical sayings that are pretty hard to translate. In the first part of a xiehouyu the situation is described and the second gives the underlying truth, so in English there is the similar 'a bird in the hand, is worth two in the bush' construction. Often only the first part needs to be said as the second part is implied. Puns are also used in xiehouyu adding to the difficulty in understanding and translating them.
---
Here are a few random idioms to give a flavor of the hundreds on this site. The proverbs are divided into different categories with a common theme. The same proverb may appear under several categories. Use this bar to see a group of related proverbs.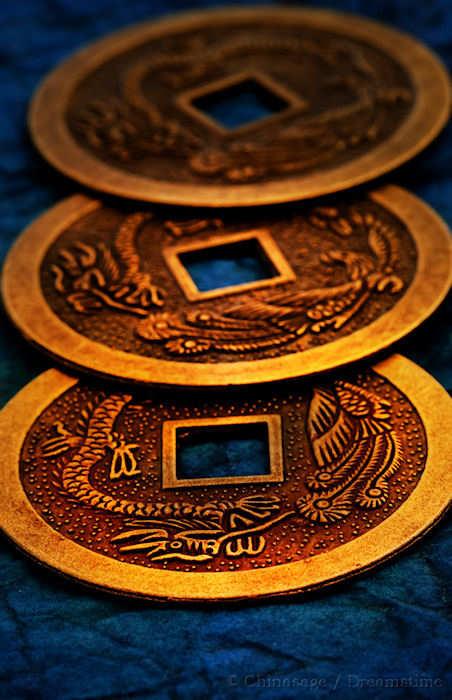 Three gold coins used for
Yi Jing
fortune telling
凡
人
不
可
貌
相
,
海
水
不
可
斗
量
[凡人不可貌相海水不可斗量]
every person can not looks mutual, sea water can not argue capacity
Neither a person can be judged by his looks nor can the sea be fathomed
Judging by appearance is dangerous
Do not judge a book by its cover
fall spear mutual direction
Attack own party
Betray one's own side
fly yellow gallop extend
To fly in the sky like the legendary horse Fei Huang (flying yellow)
A meteoric rise to success and honour
one idea lonely walk
Obstinately clinging to one's course
Acting dogmatically in pursuit of own objectives without regard to others.Dogged determination. Sometimes this approach is honorable and sometimes leads to ruin but it is the single-mindedness that is being admired.
Steely-eyed
classify tool one pattern
Possessing a unique style
Doing things your own way
raise tiger bequeath misfortune
Helping a tiger invites misfortune
Being too softhearted with an enemy who is bound at some time later to bite the hand that fed it.
Rearing a nest of vipers
donkey lips no match horse mouth
Donkey's lips do not fit a horse's mouth
Something that is out of place and inappropriate
high no accomplish low no come near
Although not qualified for high office will not accept a lower position
Exaggerating one's skills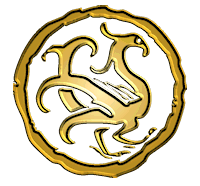 Our proverbs come with full information. The modern Chinese
characters
are given first with links that give information on the character. If the phrase uses
traditional characters
these are shown in brackets and gray text. As proverbs are so old you will often see them written in the old form. The characters are followed by the proverb (Chengyu) in
pinyin
. Next, there is a crude character by character transliteration into English, followed by a more accurate English translation. If this is a Chinese proverb alluding to history the meaning may still not be clear in English, so the general meaning follows. Finally some proverbs have fairly direct English equivalents, if so the English proverb is included at the end.
Our translations are in need of improvement, so please let us know your ideas. For background on the types and history of proverbs please
see our guide
.
Copyright © Chinasage 2012 to 2019
Please wait...
Downloading information about character