Chinese proverbs about foolishness
Sayings that generally show the pitfalls of foolishness.
Handan study gait
Learning how the residents of
Handan walk

➚
. A story of a man who took on the gait of a cityfolk trying to impress but could no longer walk properly
Pompous and pretentious. Trying too hard to impress
broken pot sink boat
Smash the pots and sink the boats. A
story

➚
from the Qin dynasty tells of a general who refused to accept possibility of retreat by burning the boats and smashing the cooking pots
No going back whatever happens. Cutting off all possibility of retreat
Don't burn your bridges behind you
tiger mouth pull up tooth
To extract a tooth from a tiger's mouth
To be very daring and/or to take unnecessary risks
donkey lips no match horse mouth
Donkey's lips do not fit a horse's mouth
Something that is out of place and inappropriate
phoenix hair unicorn horn
As rare as phoenix feathers and unicorn horns
Seeking the unobtainable
fly moth hurl fire
A moth throws itself into a flame
Heading for self destruction
Like a moth to a flame
incite wind spot fire
Create wind and fire
Create a lot of trouble
burn forest but cultivate, exhaust pool but fishing
Burn a forest to farm; drain a pond to fish
Ignoring the consequences
Marry in haste, repent at leisure
shrimp soldier crab general
Shrimp soldiers led by a crab general. An ineffective army
A laughably ineffective solution to a problem
plant melon get melon, plant beans get beans
Plant melons and you will harvest melons; plant beans and you will harvest beans
Live with the consequences of your actions
Reap what you sow
drink turtledove stop thirst
To quench one's thirst with poisoned wine. The blood of the dove was considered poisonous
To take reckless action regardless of the consequences
Don't cut off your nose to spite your face
leak hole hundred get out
Leaking through one hundred holes
Full of mistakes and errors
hear news lose courage
Panic on hearing news
Panic stricken; terrified by news
mouth OK feeling wrong
Say yes when mean no
To say the opposite of what you really think
trim foot fit shoe
Reshape feet to fit new shoes
Take the wrong decision. Apply an inappropriate solution
want enter wrong wrong
Indulge in fantasy
Let imagination run wild
Head in the clouds
ride donkey look for donkey
Looking for a donkey while sitting on its back
Ignoring the obvious. Absent mindedness
Not looking beyond your nose
conceal ear steal bell
Covering your ears while stealing the bell
Failing to think things through. Taking a rash action without applying logic
Stupid is as stupid does
affair real victory goto mighty debate
A real victory is better than a great debate
Better to act than just talk about it
Actions speak louder than words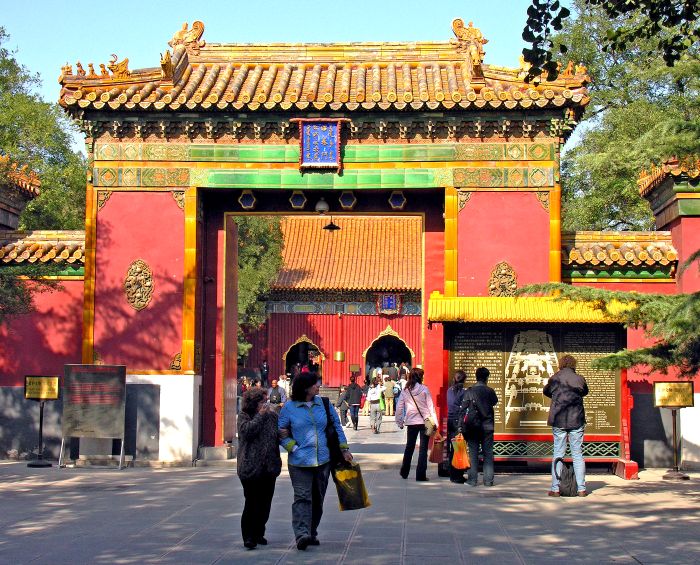 Entrance through the Gate of Peace at the Lama Temple Beijing (Yonghegong), or Palace of Peace and Harmony Lama Temple or Yonghegong Lamsery, a renowned lama temple of the Yellow Hat Sect of Lamaism. Building work on the YongHeGong Temple started in 1694 during the Qing Dynasty. It originally served as an official residence for court eunuchs. It was then converted into the court of Prince Yong Zheng (Yin Zhen), a son of emperor KangXi. After YongZheng's ascension to the throne in 1722, half of the building was converted into a lamasery, a monastery for monks of Tibetan Buddhism, while the other half remained an imperial palace. November 2006. Image by
Dennis Jarvis

➚
from Halifax, Canada available under a
Creative Commons license

➚
meat wrap child hit dog
Hitting a dog with a meat bun
To use a self defeating method to solve a problem
self mutual contradict
Self contradictory. The
story

➚
is about the man who said he had a spear that could pierce anything in the world, but also a shield that was impenetrable to any spear. Both claims could not be true
To speak in contradictions
lose sheep mend pen
Mend the pen after the sheep are lost
Can mean taking action too late or to protect against a future repeat of misfortune
Mend the stable door after the horse has bolted
do live no reason master pile up die also no merit
Working without obeying the boss will bring only hard work and no merit
Only work on what is needed to be done
summer insect doubt ice
The summer insect doubts the existence of ice
An ignorant person doesn't understand the wider truth
all orifice not linked up
All parts of the body are not working together
Incoherent action, not making any sense
before fear wolf behind fear tiger
To fear wolves ahead and tigers behind
To be obsessed by fears of attack from all sides
die horse equal live horse doctor
Treating a dead horse as if it is still alive
Persevering when it is already too late. A lost cause
Flogging a dead horse
no source water, no root tree
A river without a source, a tree without roots
Something without a proper foundation. Not properly planned
tears rescued not fire
Tears do not put out the fire
Decisive action is needed in a crisis not regrets
has eye common observe
Seen by everyone. There for all to see
Obvious to everybody
Plain for all to see
one dog bark shadow, one hundred dog bark noise
One dog snarls at a shadow; a hundred howl at each other's barking
Blindly follow a trend without even knowing its origin
gaze plum stop thirst
Gaze at a plum to quench thirst
Vain hope for something unattainable
避坑落井
evade pit drop well
Avoid falling into a pit to fall into a well
Avoid one obstacle only to hit another
use egg strike stone
Try to smash a stone with an egg
Overrate strength and be defeated. An ill-judged contest
ox cauldron boil chicken
Cooking a chicken in a pot designed for an ox
Inappropriate level of preparation. A minor event does not require such large preparation
face ox play musical qin
To play a qin (a traditional Chinese musical instrument) to a cow
To address an inappropriate and unappreciative audience
Pearls before swine
big hand big foot
Large hands and feet
Lavish and grandiose expenditure on tasteless trifles
A fool and his money are soon parted
临渴掘井
approach thirsty dig well
To start digging a well only when feeling thirsty
Begin to take measures when it is far too late
Failing to plan is planning to fail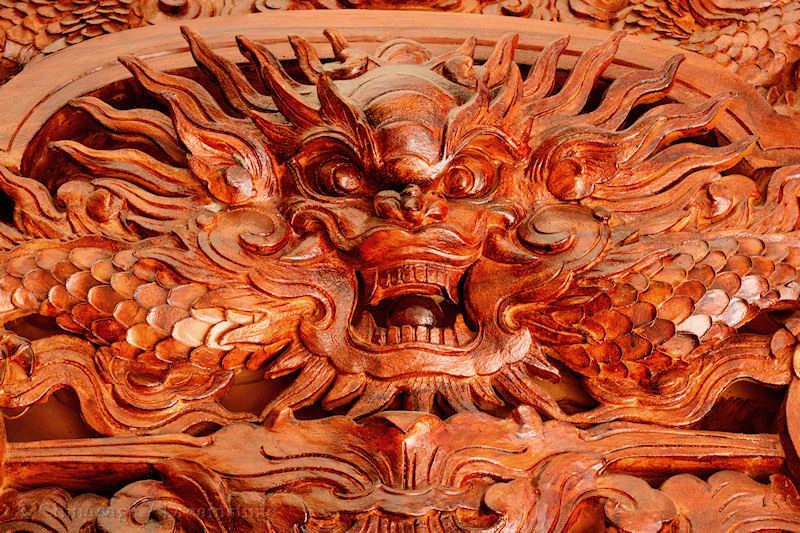 Carving of a
dragon
at a Chinese temple
mouse eye inch bright
A mouse's vision is only one inch long
Looking ahead for only a short time. Only planning for the immediate future
also want horse good, also want horse not eat grass
Want the horse to prosper, but not want the horse to eat grass
To prosper you must make compromises, you can not have it all your own way
You can't have your cake and eat it
strike grass startled snake
Striking the grass alerts the snake
It is unwise to alert an enemy
change hot water no change medicine
Change the soup but not the medicine
Not getting to the root of a problem, making superficial changes
Rearranging the deckchairs while the ship is sinking
draw snake add foot
Drawing a foot on a snake
Ruin by over working something. Too meticulous
Gild the lily
thunder sound big, rain drop small
Thunder is loud but little rain falls
Overly portentous. Reality does not match expectations
Empty vessels make the most noise
look wind steer rudder
Steer the boat wherever the winds lead
Not sticking to the big plan. A fickle mind
cause tree seek fish
To catch fish on a tree. To look at a tree hoping it will catch fish.
Waste time doing something pointless and bound to fail
hold firewood rescue fire
Holding wood while putting out a fire
Not choosing an appropriate solution to a problem - foolishness
nine ox one hair
Nine cows are missing just one hair
An insignificant amount. A trivial matter
A drop in the ocean
Dong Shi imitate knit eyebrows
The story is of Dong Shi, an ugly person imitating the posture of famous beautiful woman
Xi Shi

➚
by knitting his eyebrows
Ludicrous self-conceit
small topic large work
To talk a lot about very little
Procrastination and exaggeration
Make a mountain out of a molehill
隔靴搔痒
separate boot scratch itch
Scratching an itch from outside of the shoe
An ineffective solution to a problem
cup water vehicle firewood
A glass of water won't put out a car on fire
Not putting in enough effort to solve a problem
sit well watch sky
To sit at the bottom of a well and view the sky
A blinkered or limited view of the world
guard trunk wait for hare
Keeps watching a tree waiting for rabbits
Do not just count on luck rather than action to reach your goals
Ignorance is bliss
draw biscuit fill hunger
Drawing a biscuit to satisfy hunger
To act foolishly and ineffectively
well bottom's frog
A frog in a well. The story is of a frog that only knows of the water in the well and knew nothing of the sea
A blinkered approach to life. Living in own private world ignoring the real world
paper on chat weapon
Talk about battle strategy. An armchair general.
Making theoretical plans ignoring practical considerations
A little knowledge is a dangerous thing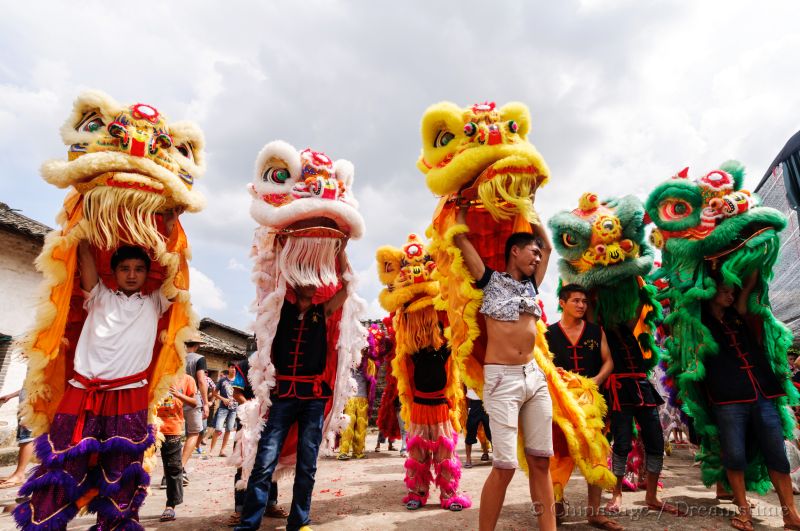 Young lion dancers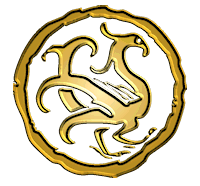 Our
proverbs
come with lots of information. The modern Chinese
characters
are followed by the proverb in
pinyin
. Next, there is a crude character by character transliteration into English, followed by a more accurate English translation. If this is a Chinese proverb alluding to history the meaning may still not be clear in English, so the general meaning follows. Finally some proverbs have fairly direct English equivalents, if so the English proverb is included at the end.
Our translations are in need of improvement, so please let us know your suggestions.
Copyright © Chinasage 2012 to 2019
Please wait...
Downloading information about character